<!tag blob=poll.css> <!tag lateBind="pageTitle">
By: mikex

|
PM
Posts: 2
PICTURE CENTER
Residence:
<!tag blob="forumpost.visitstar2">
HomePage:
New
<!tag blob=user.post.count>
My first Hublot
Date:
May 12, 2013,20:30 PM -
(view entire thread)
Hi,
I started reading this forum before buying my first Hublot, was going to post it.
But it turned into a disappointment so the post never happened.
At that time I didn't care to do more and got my money back.
But while I was overseas, saw the watch again and couldn't help buying.
Because now I have one, I hope Hublot can have better standards.
Maybe more people's opinion will help, or let me know my standard was too high.
You can see in the pics defects on the first watch I received.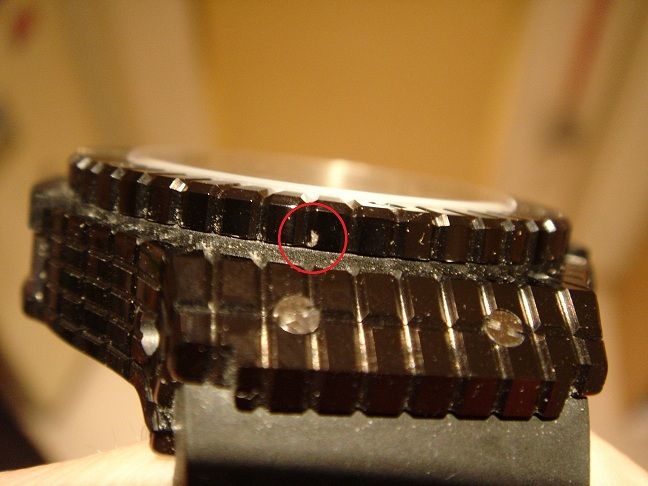 I noticed them the next day and showed to the boutique, got "it passed QC, maybe Hublot not consider them problem".
Boutique guy said he'd help, but I thought if he doesn't feel these are problems, I'd just talk to Hublot myself.
So I told him I heard Hublot's got excellent customer service and I'd like to try, so I took pics and sent to Hublot.
Hublot responded that they'd arrange a replacement, was impressed with the quick answer.
About two weeks later I went to pick up the replacement.
To my disappointment the bezel had gap under it exactly like the first one.
I didn't really check further, as the gap alone was not acceptable, but did notice something on the dial as well.
Of course I didn't take the watch, and requested another.
This time Hublot insisted "the watch is up to Hublot standard" and no replacement.
It took me a few seconds to see the gap with naked eyes, yet they failed to check for it.
Their logic seems to be, it passed QC, it must be alright.
I thought it's common sense that problems can slip through QC.
It is certainly different from what I've read on here.
And I hope this is not the change that Hublot is taking.
Cheers,
Mike
<!tag blob=thread.keyword.update>
Respond to this post
|
Main Post: My first Hublot mikex : May 12th, 2013-20:30
<!div id="container"> <!div class="pinitem">
New Older Posts:
Hublot Arturo Fuente
<!tag blob=forumpost.images2>
<!/div><!/div>